The Ladies Summer Cup 2023, proudly sponsored by Bunbury Retravision, a three day festival of golf at Capel Golf Club has now come to a close.
Congratulations to the winners and to the players that came down to play at Capel Golf Club for our Retravision Ladies Summer Cup. We had 179 players on Saturday and Sunday and 68 pairs on Friday for the 9 hole Ambrose. Interestingly, when the event was first held in 1979 we had 179 players as well 🙂.
The club would like to thank all participants for supporting our event and a big THANK YOU to everyone involved at the club in presenting the course and its facilities at their best.
Ladies Summer Cup Results
36 Hole Nett Winner - Iris Schrott (Serpentine & Districts)
36 Hole Nett Runner-up - Karan Murray (Katanning Golf Club)
36 Hole Gross Winner - Aliston Eather (West Australian GC)
36 Hole Gross Runner-up - Josephine Jones (Bunbury Golf Club)
Iris Schrott has been a regular fixture at the Summer Cup over the years and has won the event 7 times - 3 times whilst being a member of Pinjarra and 4 years in a row whilst being a member at Serpintine.
During presentations, Iris Schrott informed attendees that she will be doing an Ash Barty and will be retiring from future golf tournaments and will be looking forward to new sporting challenges. Well done Iris on your golfing endeavours and we wish you future sporting successes. Thank-you.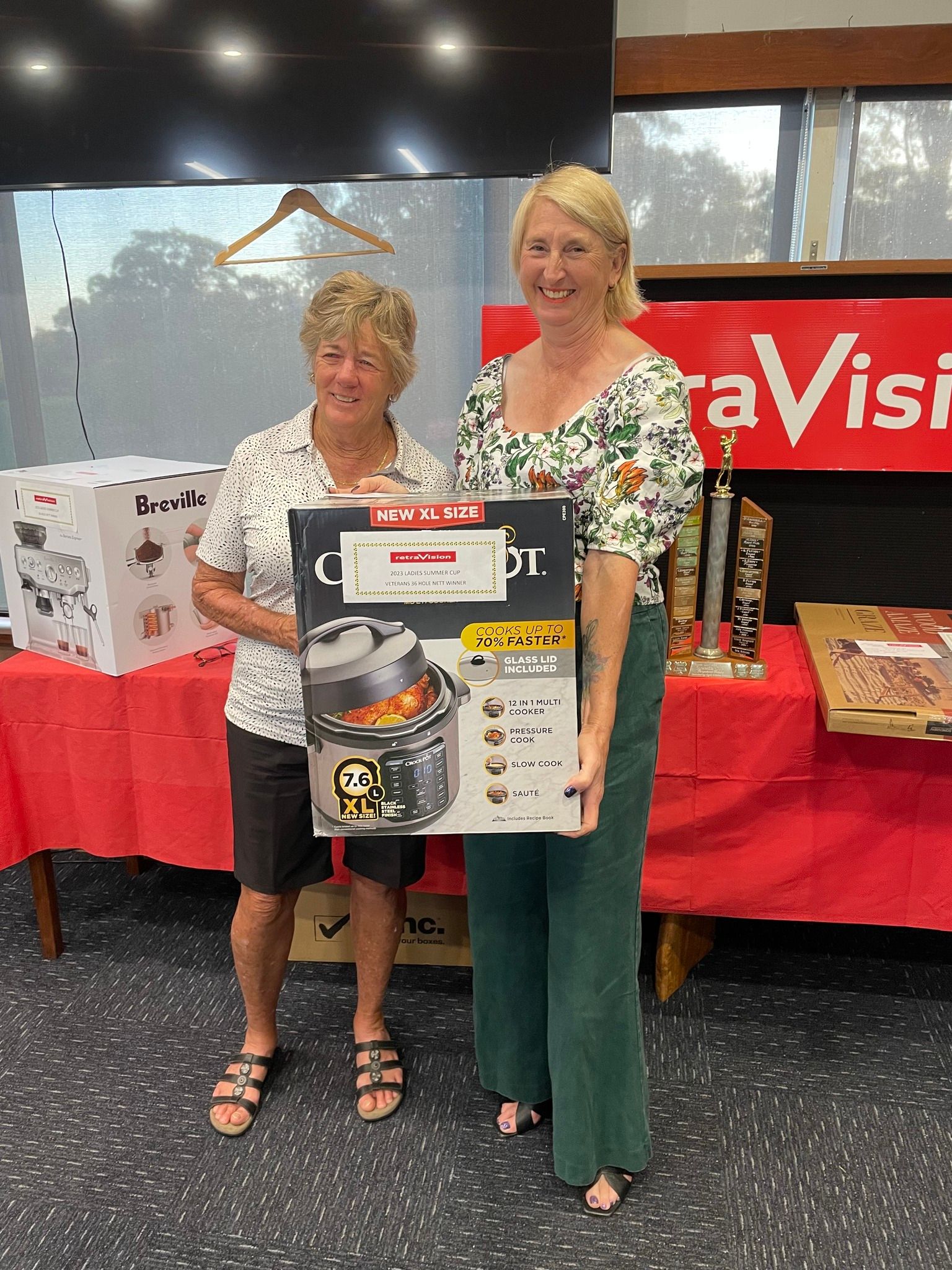 Friday 10 February 2023
Day one of the three day festival of golf at Capel Golf Club was Friday's Nine-hole Retravision Ladies Summer Cup 2-ball Ambrose.
There were 36 pairs on the front nine and 32 pairs on the back nine.
Front 9
Winner - 34.5 points - Karan Lamon and Karan Murray (Katanning Country Club)
Runner-up - 34.75 - Lynley Hunter and Lynne Malone (Cottesloe Golf Club)
Third place - 35 - Carolyn Ferguson and Sheree Gregory (Capel Golf Club)
Back 9
Winner - 34.25 C/B - Diane Bowden and Jenny Hughes (Seabirds Golf Club)
Runner-up - 34.25 - Karyn Thorpe and Lyan Shephard (Augusta Golf Club)
Third place - 35 - Judith Malone and Ingrid Bandy (Lake Karrinyup Country Club)